About SuperBox
SuperBox Tech was founded in 2015, located in Hong Kong, China. Which has been working in the streaming media player business for over 8 years. We offer the most comprehensive range of cable TV edge solutions.

SuperBox is now driving the streaming market with cutting-edge technology and a focus on top-notch customer service. Our Android-based streaming player provides a fully customized streaming experience. We've combined the fastest technology with a super-simple interface for unlimited hours of streaming fun.

SuperBox is basically a mini PC that runs the Android operating system. It normally comes with Custom Apps installed that allow you to stream movies, series, channels, sports, etc for free.

SuperBox Streaming Media Player allows you to stream unlimited movies, TV shows, and more without paying hefty monthly subscription fees! We've changed the streaming game by offering the most powerful and diverse streaming device ever. SuperBox TV boxes are neat, humble streaming machines that plug and play and allow for unlimited hours of fast and easy streaming.

Our belief in service, products, and people drives every decision we make. Provide the best customer service, the latest extreme speed technology to an amazing group of customers. We provide our clients with the best service and treat them like family, which is why so many clients recommend us to their friends and family. We believe our commitment to the three principles of service, product, and people has driven our success and has made us one of the largest providers of streaming media equipment.

We are 100% committed to providing the best streaming experience possible. The SuperBox is a real game-changer in streaming, and it's the most powerful and user-friendly TV box on the market today.

If you're tired of paying ridiculously high cable bills, If you like watching sports, But don't want to pay high sports membership fees, let us help you!

Buy a

SuperBox TV box

and say goodbye to your cable provider NOW!

iSuperBoxPro offer you the Most Professional and Reliable Free Streaming Media Player. You won't be disappointed.

Official SuperBox Online Store
iSuperBoxPro is the official online store of SupeBox Tech. All SupeBox TV boxes are authorized for sale by SuperBox Technology, with a strict quality appraisal.
Products purchased from this site will provide professional customer service for you. It is our aim to let customers buy easily and use happily!

Note please:
Any SuperBox TV boxes sold from unknown websites may be counterfeit or unauthorized boxes.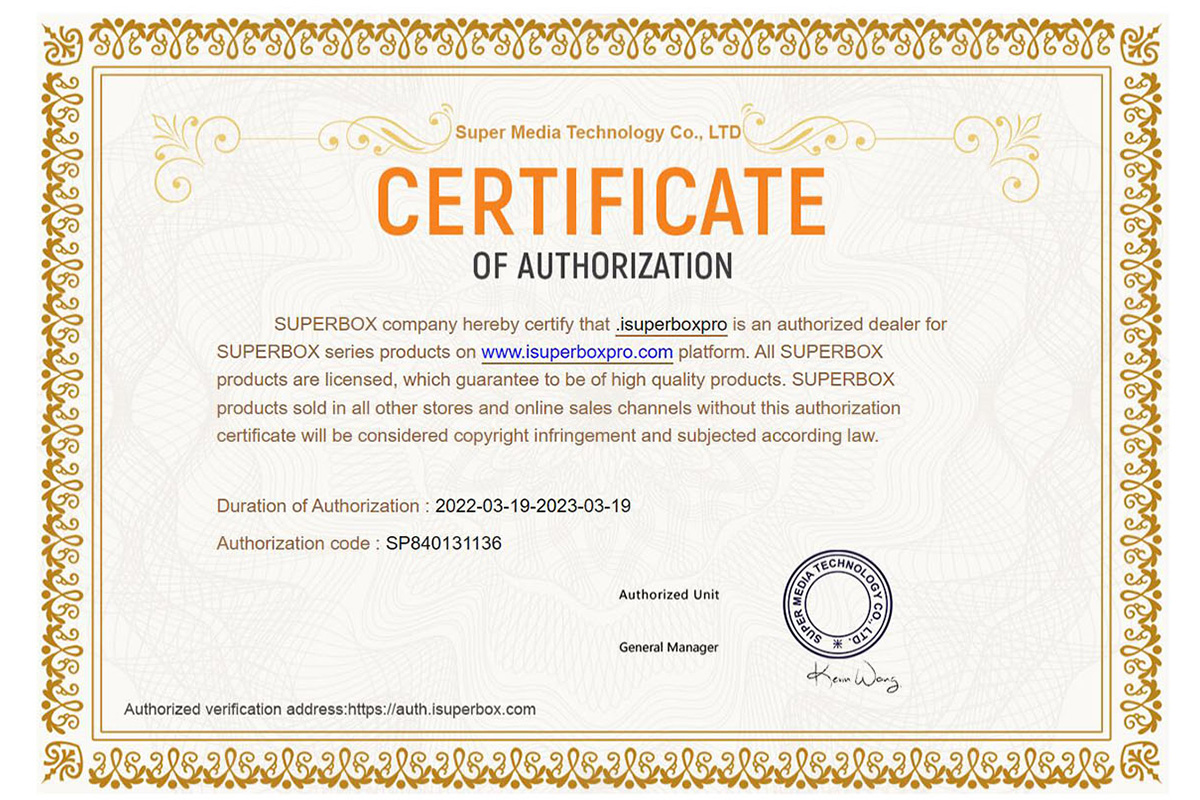 Enjoy SuperBox TV Box Worldwide
SuperBox is the best Android TV box in the world. Lots of TV channels, sports channels, TV shows, lots of surprises.
Have the "Box" you can have the world. You can use our SuperBox in any country in the world and enjoy our SuperBox worldwide without any limitation.

✔. America: USA, Canada, Mexico, Brazil, Chile, Argentina......
✔. Asia: Japan, South Korea, Singapore, Hongkong, Taiwan, Macao, Malaysia, Philippines, Brunei, Indonesia, Thailand, Vietnam, Cambodia, India......
✔. Europe: UK, France, Germany, Portugal, Spain, Italy, Netherlands, Switzerland, Sweden, Finland......
✔. Oceania: Australia, New Zealand......
✔. The Middle East: Saudi Arabia, United Arab Emirates, Jordan, Kuwait, Dubai......
✔. Africa: Nigeria, Egypt, South Africa, Algeria, Morocco, Kenya, Ethiopia, Tanzania......
---
Attention Please:

There have many other sellers on B2C-Platform, such as Amazon, eBay, Shopify, Shopee, Wish, Lazada, Aliexpress, Facebook Store, etc. However, Some are not officially authorized, the TV box is not guaranteed, may not be used after a period of time, and there is no warranty, and can't be upgraded.

So please be sure to go to the official SuperBox store to buy genuine.