By SuperBox Store |
26
June 2022 |
0
Comments
Is SuperBox S3 Pro Worth Buying? - Complete Review
Would you be interested in a device that plays dramas, movies, or live TV? If so, then SuperBox S3 Pro would be a good option. This device makes it possible to watch a wide variety of films and television shows worldwide.

For the year 2022, SuperBox S3 Pro will offer you the most convenient and smooth Android TV box. With SuperBox, watching TV has never been easier. Watch your favorite shows with Superbox instead of costly cable equipment and save money simultaneously.

The SuperBox S3 Pro offers better sound quality, storage capacity, and performance improvements compared to the previous generation. The SuperBox S3 Pro is one of the best SuperBox tv boxes with a lot to offer for its users.

Besides, this article will provide you with a detailed review of the SuperBox S3 Pro to decide if it's worth it. Continue reading for more information.

SuperBox S3 Pro Review
Here is a review of SuperBox S3 Pro that includes critical features.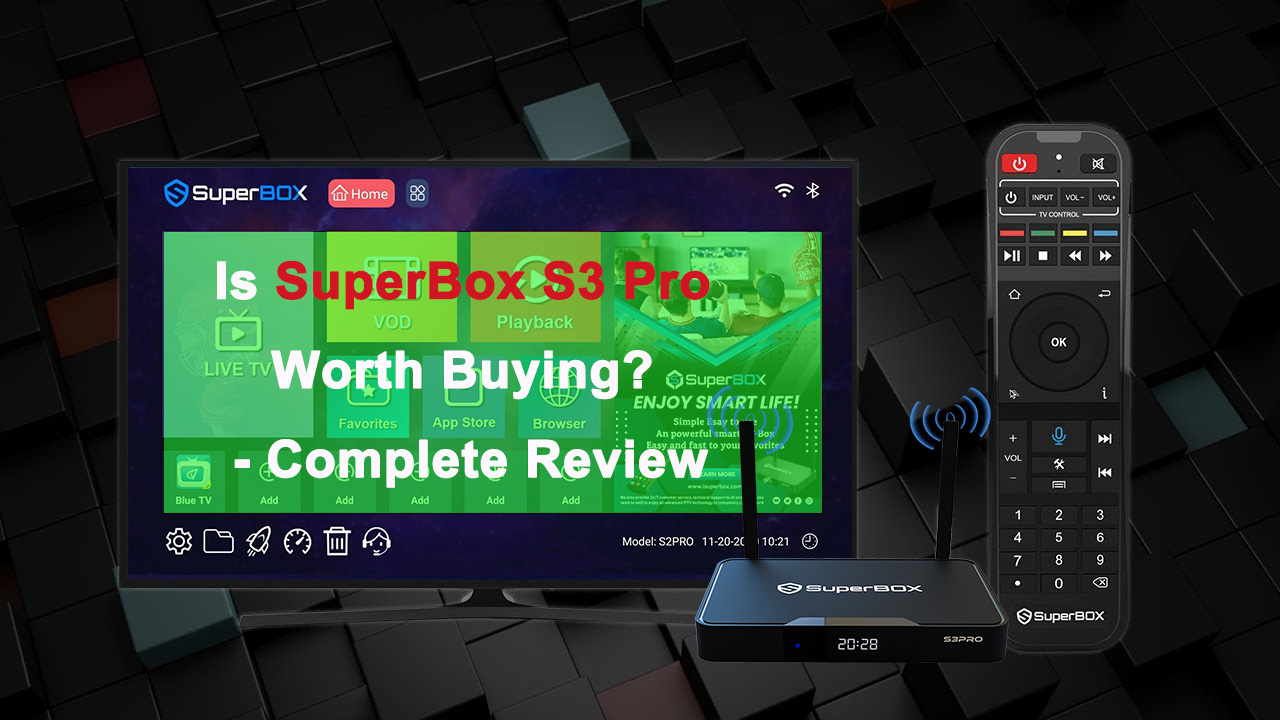 ➥ Convenient Voice Control Functionality
A vital feature of the S3 Pro that distinguishes it from competitors is its premium remote control, which is Bluetooth and IR compatible. Using voice control is as easy as pairing your remote and pressing the voice button.

Using the Voice Control remote does not require downloading the Google Assistant software. All you need to do is press the voice button and speak to control it.

The voice control feature is invaluable to older adults with difficulty pressing numerous buttons at once. Searching for TV content is much easier when you have a hands-free search option.

➥ Enjoy 4K Home Theater
The SuperBox is the easiest way to enjoy the best picture quality on your HDR TV using high-end streaming and decoding technologies.

Moreover, the 2T2R technology employed in this streaming device offers 60% faster streaming and better stability. With its hotkey feature, you can access your favorite apps instantly and view the current weather at a glance.

➥ Hotkeys Function & Elegant Design
The S3 Pro has the same design as the S2 Pro, but you also have the option of customizing shortcuts to add your favorite applications or web browsers to the home screen.

A weather icon on the upper-right corner of the page displays the current weather in your area. When you click the "FN" icon, the menu opens up for setting up hotkeys for different apps, allowing you to launch certain apps with a single click.

➥ Performance
The review wouldn't be complete without sharing the experience with the SuperBox S3 PRO. Our team has tested the SuperBox S3 Pro so that we can discuss its performance with you.

Let's start by looking at its connectivity. We used Wi-Fi to connect to the S3 PRO, located at the rear of the unit. There was no buffering to our delight. The SuperBox S3 Pro worked as advertised and produced top-notch images.

It is also easy to find channels using the remote and voice control function. Furthermore, the S3 Pro had an easier-to-navigate dashboard than its predecessors. So, the SuperBox S3 Pro will make your life a lot easier.



GREY
Grey is a creative problem solver and experienced strategist with a passion for bringing people together to do great things. He loves working with teams to develop new ideas and strategies and has a particular interest in human-centered design and how it can be used to create positive change in the world.